You may hear the terms user interface (UI) and user experience (UX) frequently discussed in tech circles. But what do they actually mean, and what does it mean to be a UX or UI designer? UI refers to the screens, buttons, toggles, icons, and other visual elements you interact with when you access a website, app, or another electronic device. UX refers to your entire experience with a product, including your feelings about it. Although UI and UX are related, their roles are distinct. Here, we compare how the roles overlap and differ and how to decide which path to take.
What Is UI Design?
UI focuses on the visual experience of the user. It is functional, reliable, and enjoyable to use. It should help the user accomplish goals with ease. It should minimize the effort to interact with the product. To learn about their target audience (user interviews, direct observation, etc.), designers use user-centered design methods (user interviews, direct observations, etc.) to tailor the visual language they introduce in the UI to meet their needs. A good UI should be aesthetically pleasing because end users perceive interfaces with great aesthetics as more usable, according to the aesthetic–usability effect.


What Is UX Design?
The user experience (also known as the 'UX') relates to every aspect of the visitor's experience of your company. It measures how the customer felt about their interaction with your business, from the beginning to the end. UX is most commonly used to describe online content, such as company websites or online applications. In addition to your branding, pricing, reviews, media, advertising, etc., your UX can also be influenced by many external factors. As a result of these factors, people may arrive at your site with preconceived notions about your company. Customer service, product quality, and site usability are all included in this assessment.

This measurement determines an emotional response to a company's online offerings. By evaluating a website through the analysis perspective of user experience, companies can identify any areas of weakness and then improve their online platforms to best suit their target market's needs. Additionally, customers are more likely to return to the site, make a purchase from it, or continue using it if they enjoy using it. To improve your user experience, you need to optimize your page with the interaction of users in mind. You can do this, for example, by enhancing your website's usability, adding relevant content, improving your website's design, or providing more customer service.


Why is UI/UX important?
Here are the five main reasons UI/UX design is essential for web development success.


1- Increases user engagement on your website
The user interface and the user experience play a crucial role in integrating graphic elements into a website, allowing site visitors to navigate through it. When visitors find the webpage uninteresting and unengaging, they're most likely to leave the site and go to one of its competitors. Visually appealing and easily navigable websites encourage users to stay on the website and check out the goods/services the brand provides. UI/UX design leads to higher user engagement, leading to increased revenue and brand awareness for the company.


2- Helps you build your brand
A website that prioritizes user experience will likely have happy and satisfied customers. Customers gravitate to businesses that prioritize the customer experience. Additionally, suppose you let your customers provide feedback about your website. In that case, you can pinpoint all the minor problems they might encounter when they visit your website, allowing you to improve your service. Additionally, this improves your business' credibility and develops a good relationship with your customers. All of which contribute to long-term growth.


3- Saves time and money
Investing once and for all in good web design and user experience will reduce the chances of your customers complaining and the need for frequent updates and changes. It takes a lot of time and money to update your website regularly. If you focus on effective website development from the get-go, you can save your time, money, and efforts and use them elsewhere. Therefore, design and interface requirements should be considered before building a website.


4- UI/UX design supports SEO
A website's SEO ranking is one of the most important elements contributing to its success. As we mentioned in How to Utilize Website Structure for SEO? UX design and SEO work together and help the website rank higher in Google. A search engine's main objective is to provide users with information conveniently and quickly. It tracks user engagement using several different factors. A good UX design means quick page load speed, mobile responsiveness, and a user-friendly URL structure, all of which contribute to an effective SEO strategy.


5- UX design increases website conversions
Despite many websites offering similar products and services, customers tend to choose websites that provide a good user experience. According to a study, a well-designed user experience can boost conversion rates by 400%. It has been mentioned above that well-optimized accessibility and usability can greatly impact customer satisfaction. Furthermore, a website emphasizing UI/UX design may encourage the user to check out the products.

Therefore to expand your business and increase conversions, you mustn't underestimate the benefits of user experience design.


UI Vs. UX: Tasks and responsibilities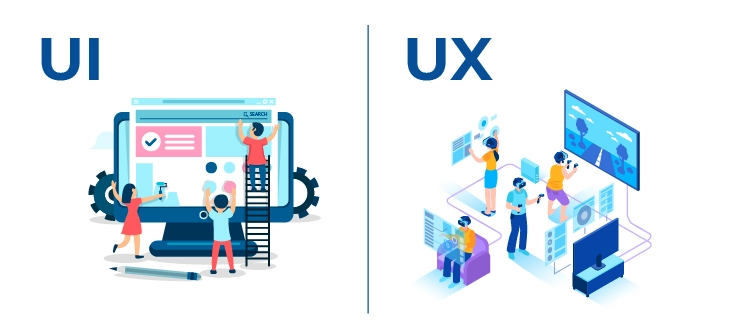 There are two interdependent terms: UX and UI. While UI is generally concerned with how users interact with computer systems, software, and applications, UX is usually concerned with how a user feels about a brand, product, or service. It's important to understand the roles of both UI and UX designers during the product development process.


UI:
Designing UI for apps, websites, and devices involves creating the graphical elements that users interact with directly. UI is used exclusively to describe digital products, in contrast to UX, which applies to almost any product or service. The goal of a UI designer is to make apps and websites visually appealing and easy to use. Common tasks include:

1- Creating layouts for pages.

2- Selecting a color palette and font.

3- Creating interactive elements, including scrollers, buttons, toggles, drop-down menus, and text fields.

4- Creating a high-fidelity wireframe and layout to demonstrate the final design.

5- Converting designs into working products in collaboration with developers.


UX:
UX designers aim to make products functional, accessible, and enjoyable for users. UX designers are focused on the user experience. Often, UX is used to describe digital products, but it can also refer to non-digital products and services (such as coffee pots and transportation systems). UX designers are expected to perform the following tasks:

1- Identifying user goals, needs, behaviors, and pain points associated with a product interaction through user research.

2- Creating user personas based on target audiences.

3- Analyzing customer interactions with products using user journey maps.

4- Designing wireframes and prototypes to help determine the final look and feel of the product.

5- Validating design decisions and identifying problems through user testing.

6- Working with stakeholders, UI designers, and developers.


To Sum Up
An effective website relies heavily on UI/UX design. If you would like to build an engaging and helpful website for your business, you must understand how UI/UX design plays a role in the design process. It is a good idea for businesses to outsource UI/UX development to specialists to ensure a smooth development process.

Download this Article in PDF format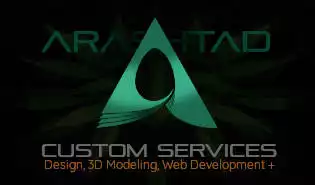 Arashtad Custom Services
In Arashtad, we have gathered a professional team of developers who are working in fields such as 3D websites, 3D games, metaverses, and other types of WebGL and 3D applications as well as blockchain development.
Arashtad Services
Drop us a message and tell us about your ideas.
Fill in the Form
Blockchain Development